So, as the reward for this little endeavor is some swank ink, I thought I'd post a couple of ideas.
I will NOT, as Ryan suggests, be getting the face of Walter Cronkite immortalized on my person.
The Cronk rocks, but not quite in a tattoo kinda way.
I do like this logo from the Corps of Royal Alician Marines: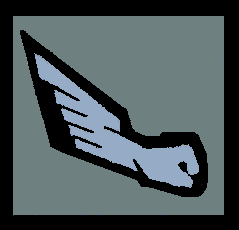 It's got a "fist of a titan" thing going on that I dig. The other idea I have is a symbol my sister first introduced to me upon her return from Ghana:
It's the "gye-nyame" (pronounced ZHEE NYA-MEE), and it's a symbol of the supremacy or omnipotence of God. The story goes that in Ghanaian, it literally translates to "expect for God", and used to be used to decorate items that belonged to the tribal leader, who was divinely ordained. Hence, no one "except for God" can sit on this stool, use this staff, etc. Later, when the indigenous people were fighting to retain the land of Africa, tribal warriors used to tattoo themselves with this mark, as if to say "no one except for God has dominion over my body", and thus, if death came in battle, it was the work of God, not a hated French colonist.
Tomorrow in Tatt History 101, we'll be studying the peoples of Polynesia...
...just kidding.